Amazon has unveiled smarter, more attractive Echo devices.
At a secret press event held on Wednesday at its new campus location in downtown Seattle, the company showed off new versions of its popular Amazon Echo device.
The latest Echo is shorter and fatter than the original — and available in finishes such as wood and grey fabric. It will cost $99 for one, but if you buy three at once, you'll get $50 off, the company said.
Amazon also revealed the even Echo Plus, a tall and skinny device (like the original) available in a grey finish.
The Plus has a smart home hub built inside, so you can control lightbulbs and smart plugs and locks. Each Echo Plus will ship with a starter bulb from Philips to get people hooked on smart home devices. It will cost $149.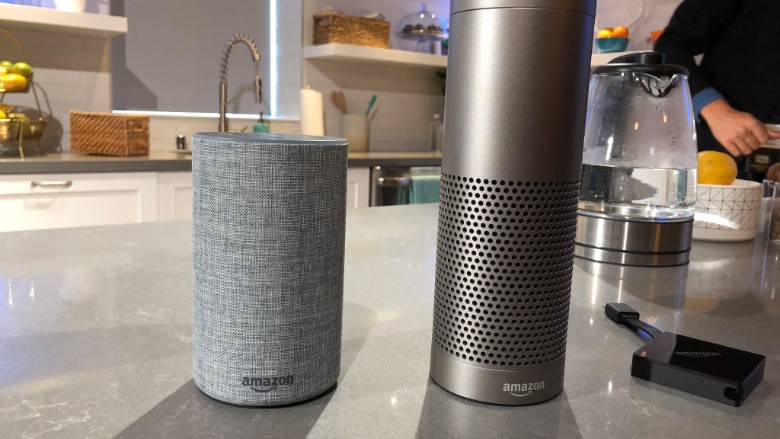 Existing Echo devices are also getting a features boost. You'll be able to play music on multiple Echos at once by saying requests like "Alexa, play Cardi B. everywhere." The updates are available via the cloud, so users don't have to download new software.
Amazon's Echo line does far more now than play music nowadays. In fact, Amazon sees it inching toward replacing the home landline. You'll "soon" be able to make phone calls to any numbers in the US, Mexico and Canada for free.
Here's a look at other updates announced at Amazon's event:
Alexa in the car
The company is also bringing the Echo's built-in voice assistant Alexa to the car so drivers can order pizza or change tunes while on the highway. It will be included in select BMW cars starting in 2018.
The Echo button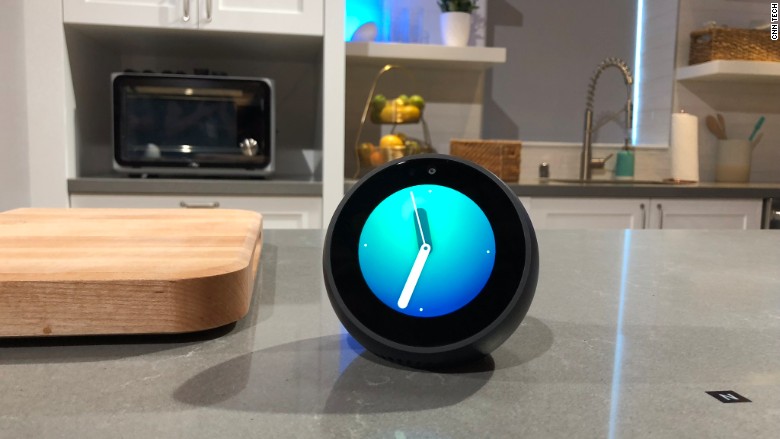 Amazon noticed people were frequently using the Echo to play around, so it decided to make a dedicated device dedicated to just that. Its new Echo Button — about two inches high with a blinking light on top — is for games like three card monte. The company is working with developers such as Hasbro on games like Trivial Pursuit for Echo Button. Price: $20 for two Buttons.
The Echo Spot
Amazon wants Alexa to be your new alarm clock. The Echo Spot is a round Alexa-powered gadget with a touchscreen and a small camera. It's like a mini Echo Show. You can watch videos on it, get your morning briefing, or use it as a baby monitor. The device will cost $129 and ship in December in the U.S.
The event
Wednesday's event was held at Amazon's "Day One" building, a 37-floor tower that opened late last year. The building is part of Amazon's campus in downtown Seattle, a $4 billion multi-building project that is still ongoing.
Related: First look at Apple Park, Steve Jobs' dream campus
The centerpiece of the headquarters is a building made of three converging domes. Called the Amazon Spheres, the 90-foot high glass and steel structures will be home to a lush botanical garden and a 60-foot "living wall" made of plants.
The event came two weeks after Apple's iPhone 8 and iPhone X event held at its new Cupertino headquarters.
Amazon launched its Echo smart speaker in 2014. That device started a race among major tech companies to create their own versions of the surprise hit. Google created the Google Home, Apple is releasing the Home Pod later this year, and Microsoft is working with third-parties on speakers that use Cortana.
Meanwhile, Amazon is working to get its Alexa voice interface in a variety of products. The tech world is betting that voice will be the next big computer interface, and Amazon wants to keep its head start.