[ad_1]

We finally have a name for Google's latest mobile operating system: Android Oreo.
Android Oreo, previously codenamed Android O, was announced in March. The software has been in preview for a few months so developers could update their apps.
Android Oreo will first be available on Google devices, including the Pixel and Nexus lines. The launch date has not yet been announced.
The new operating system name continues Google's tradition of naming its Android updates after sweets. Previous names include Nougat, Marshmallow, and Lollipop.
This isn't the first time Google has partnered with a brand. It teamed up with Kit Kat in 2013 to launch a version of the same name.
Google unveiled the name Android Oreo to the public during the total solar eclipse on Monday.
The company also confirmed to CNN Tech that there will be a limited run of Android-themed cookies from Oreo.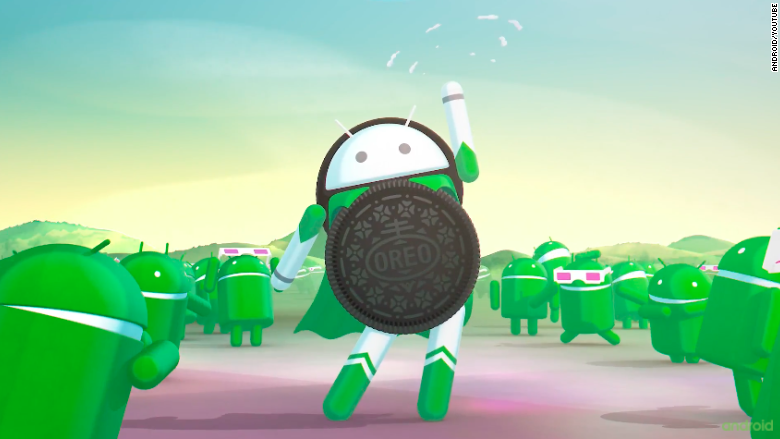 The new OS will include updates to what Google (GOOG) calls "vitals," including battery and security improvements. For example, Google Play Protect is an anti-malware feature that alerts you when you have a malicious app on your phone.
App badging is also coming to Android Oreo so you can see pending notifications. The notification panel itself has received a slight redesign. New emoji will also be available with an updated look: It's tiny icons more in line with Apple's.
Related: Google is still trying to kill the Echo and Siri
Meanwhile, you'll be able to watch videos while using other apps on your phone or tablet with its picture-in-picture feature.
There's no official date for when other Android-powered devices will receive the update. According to Google's numbers, most Android devices — about 85% — aren't even on Android Nougat, last year's release.
Android is notoriously slow at rolling out device updates because of the number of manufacturers, phone carries and other third-party companies involved in seeing through a new release. But Google said Android Oreo and future versions will get new updates faster.
Apple's latest mobile update — iOS 11 — is expected to launch this fall. It will feature peer-to-peer payments, upgrades to Siri, new Live Photo effects and a way to block notifications while driving.
[ad_2]

Source link