[ad_1]

Is the British auto industry running out of gas?
Auto sales in the U.K. dropped by 9.3% in July compared to the previous year, according to data from the Society of Motor Manufacturers and Traders. It was the fourth consecutive monthly decline.
It's a trend being driven by uncertainty over Brexit.
"The fall in consumer and business confidence is having a knock on effect on demand in the new car market and government must act quickly to provide concrete plans regarding Brexit," said Mike Hawes, the industry group's chief executive.
Britain started exit negotiations with the European Union in June, but there has been little clarity on what its future relationship with the bloc might look like.
Many businesses have delayed investments while they wait for more information. Consumers, meanwhile, are avoiding major purchases where they can.
The consumer spending slowdown has been fueled in large part by a sharp decline in the value of the pound, which has dropped 13% since the referendum in June 2016. Its weakness has made imported goods more expensive.
"This is consistent with the overall softness in consumer spending over the year so far, particularly a reluctance to make major buys," said Howard Archer, chief economic adviser to the EY ITEM Club.
Related: These countries want to ditch gas and diesel cars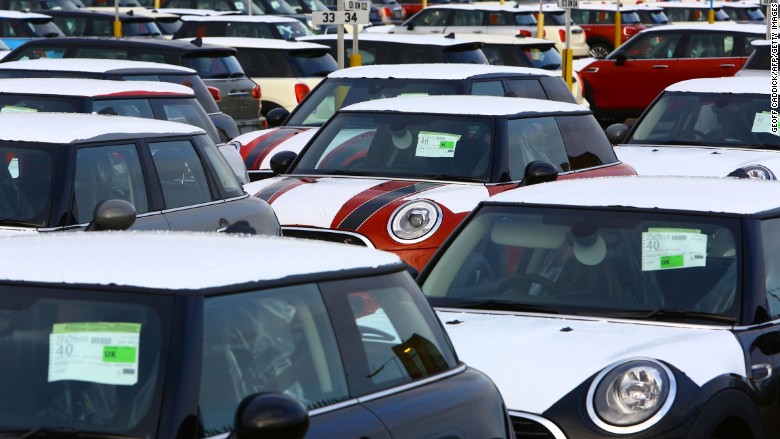 It's not just auto sales that are suffering.
The number of cars produced in the U.K. fell by nearly 14% in June compared to the previous year, according to SMMT data released last week. It was the third consecutive month of lower output in row.
Britain's auto industry, which is worth an estimated $100 billion, was at the forefront of Brexit fears even before sales and production numbers dropped.
Related: BMW to build new electric Mini in the U.K. despite Brexit worries
Cars made in Britain get nearly 60% of their parts from outside the U.K. — mostly from the EU — and about 55% of those cars are sold back into the EU. Any new tariffs resulting from Brexit would seriously hurt the profitability of domestic automakers.
Industry executives are facing key decisions on investment and production in the U.K. They may feel compelled to make new models in the EU, rather than risk facing new tariffs on exports (and imported parts) after Brexit.
The industry has received one boost in recent weeks. BMW (BMWYY) announced in late July that it will produce new electric Minis at an existing factory in Oxford, England that employs 4,200 workers.
[ad_2]

Source link