[ad_1]

A SpaceX rocket is ready to deliver one of the most high-tech payloads ever to the International Space Station.
When the Falcon 9 rocket blasts off on Monday, one of the items on board will be a supercomputer built by Hewlett Packard Enterprise (HPE, Tech30), dubbed the "Spaceborne Computer." If it works, it could be the most powerful commercial, off-the-shelf computer ever to operate in space.
Astronauts aboard the space station already have a bunch of devices you'd find at your local electronics store — including HP laptops.
But a supercomputer is something different. It's a much more powerful piece of hardware that can crunch massive amounts of data and send the results to other computers in just moments.
According to Mark Fernandez, the HPE engineer who is heading up this new experiment, the space-bound supercomputer will have the ability to make one trillion calculations in a single second — about 30 to 100 times more powerful than your average desktop computer.
Julie Robinson, the chief scientist for NASA's space station program, said if this supercomputer can function in the harsh conditions of space — it'll be very exciting news for companies down here on earth.
Robinson points out that a huge point of interest for the private sector is taking high-quality satellite images of earth in order to track things like crop growth or oil exploration.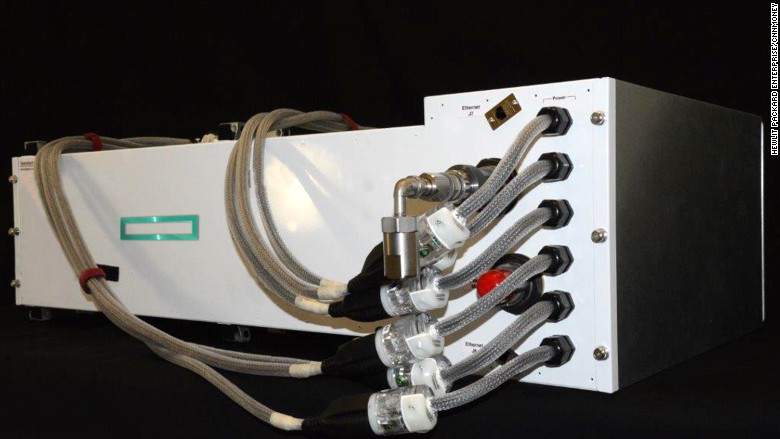 "What's happening is — just as your TV now has so much more resolution — the same thing is happening with [satellite imagery]," she said.
But the high-definition images require 200 to 300 times more data, which can clog up the communication pipeline between earth and space. That's where a supercomputer on board the space station would become hugely valuable, Robinson told CNNMoney.
"If you can process the data on board [the space station], you then only need to send down a subset of the data that's actually needed," she said.
Space-bound computers have been slow to reach such powerful data processing capabilities. A lot of the hardware on board the space station now has undergone significant retrofitting via a process called "hardening" — which means it's been beefed up with extra protection to keep it safe in the rough conditions of space.
Related: SpaceX now valued at $21 billion
"By the time it goes through the hardening process, and then the tests needed to ensure it's ready to fly, the computers are many generations old," HPE's Fernandez said.
HPE's supercomputer, however, is just like one you'd buy on earth. Fernandez said the only thing different about the one flying to space is some special software that should be able to detect when the computer is exposed to something dangerous — like high radiation levels — and make small adjustments to keep it safe.
Will the avant-garde software be enough to ensure the supercomputer will survive in space?
Not everyone is so sure. "Some think it'll never power up or be fried within the first few minutes," Fernandez said.
We'll find out soon enough.
Fernandez said he expects to receive word the device has been plugged in and booted up sometime on September 4.
Related: SpaceX rocket finally lifts off after two aborted launch attempts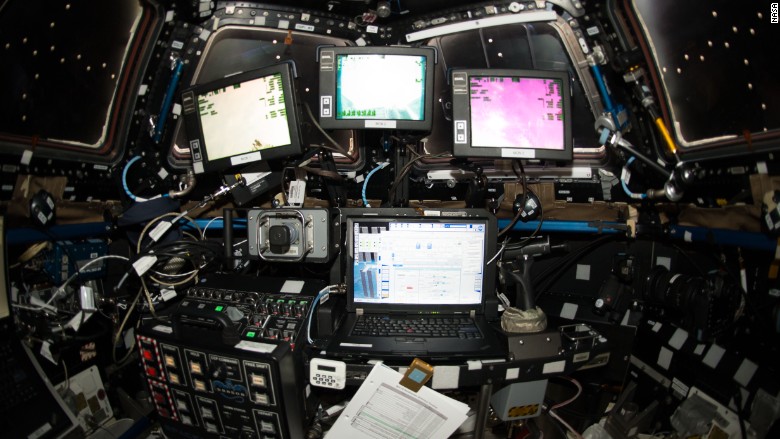 "I told them to let me know as soon as that happens — anytime, day or night," Fernandez said with a laugh. "If it powers up, that's going to be my first relief. I will be very excited then."
Fernandez and his team will then run about 2-and-a-half hours of tests to determine if the computer is fully functional. That, he said, will be the next major victory.
Then, the plan is for scientists here on earth to keep running tests with the supercomputer for a full year to see how it fares on the space station.
If the supercomputer is still operational at the end of one year — Fernandez said it'll pave the way for NASA to send up even more powerful computers.
And one day, a similar computer could be used by astronauts traveling to Mars.
HPE's Fernandez and NASA's Robinson both said having the ability to process large amounts of data on board a Mars mission would be a huge advantage.
That's because there could be long minutes of lag time in communicating with Mars-bound astronauts, and communications could even be cut off for days at a time.
"Such a long communication lag would make any on-the-ground exploration challenging and potentially dangerous if astronauts are not able to solve certain problems themselves," HPE explained.
"By sending a supercomputer to space, HPE is taking the first step in that direction," the company said.
[ad_2]

Source link