[ad_1]

Zimbabwe was once the bread basket of Africa. But it's been slammed by industrial mismanagement, food shortages, a collapsed currency and rampant corruption.
Military leaders have seized control of the country in an apparent coup, deploying tanks in the capital city of Harare and placing 93-year-old President Robert Mugabe under house arrest.
Mugabe has led the nation for nearly four decades, and is widely blamed for its economic collapse.
Here's the story behind Zimbabwe's economic rise and fall:
1980s
Mugabe was elected the first prime minister of a newly independent Zimbabwe in 1980 after spending years in prison for his politics.
He was adored by many as a Nelson Mandela-style figure who would lead the country forward following decades of British and white-dominated rule.
"He always had a populist stance, which meant he wanted to work in the best interest of his people but not necessarily the economy," said Funmi Akinluyi, a portfolio manager who invests in Africa and frontier markets at Silk Invest.
Mugabe earned international recognition for education and health initiatives, and the nation steadily grew its exports of manufactured and agricultural products. Zimbabwe was famous for its tobacco production, and its weather supported year-round farming.
1990s
As Mugabe's political momentum faded, critics accused him of using brutality and bribery to maintain his power. He has consistently denied wrongdoing.
Mugabe's mismanagement of the country's farming sector was a turning point that contributed to an economic catastrophe.
The aim of government land reforms was to end decades of farm ownership by white landlords, which many viewed as a colonial injustice.
The 1992 "Land Acquisition Act" allowed Mugabe to force landowners to give up their property and redistribute it. In 1993, Mugabe threatened to expel white landowners who objected to the rules.
2000s
It wasn't until 2000 that Mugabe's campaign gathered strength and he forced 4,000 white farmers to give up their land. Zimbabwe's agricultural output dropped almost overnight.
"There was an immediate food shortage," remembers Akinluyi. "People went hungry."
The move was followed by two years of bad harvests and an extended dry spell, leading to the country's worst famine in 60 years.
In the midst of chronic shortages of basic goods, the central bank ramped up its money-printing machines to finance imports. The result was rampant inflation.
At the peak of the crisis, prices were doubling every 24 hours. Cato Institute economists estimate monthly inflation peaked at 7.9 billion percent in 2008.
Unemployment soared, public services collapsed and the economy shrank by 18% in 2008.
Zimbabwe abandoned its currency in 2009, leaving transactions to be conducted in U.S. dollars, South African rand and seven other currencies.
2010s
Mugabe responded to international sanctions in 2010 by threatening to seize all Western-owned investments in the country.
The threat has kept prospective investors away.
"The political risk outweighs the opportunity that you know is there," said Akinluyi.
Mugabe's government had shifted its focus from farms to mines, ordering nearly all diamond miners to halt activity and abandon their facilities. The plan is for a state-run entity to take over operations.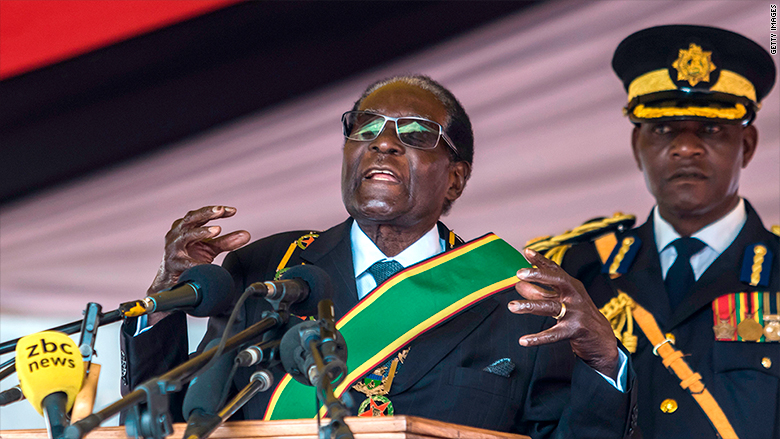 Zimbabwe now struggles to earn cash from outside nations after strangling top export industries. A severe drought has squeezed the country further, leading to frequent bank runs in 2016.
Late last year, the country began printing so-called bond notes, worth $1 each, in a bid to ease a chronic cash shortage.
Akinluyi said the current situation is upsetting because Zimbabwe had so much potential.
"They have diamonds, coal, copper, iron ore... [You] name it, they have resources," she said. "I personally think it would be quick [to turn things around] with the right person in power."
-- Ivana Kottasova and Eleni Giokos contributed reporting.
[ad_2]

Source link