[ad_1]

Jim Bogart sees a growing trend in his patch of America: Farmers are turning more and more to machines because they can't find enough workers to harvest fruits and vegetables.
It's an issue costing California farmers millions of dollars and, they argue, it will eventually mean higher food prices at supermarkets.
"With the shortage of workers, we have to develop other means to help us grow, harvest and process our crops -- robotics, mechanization, automation," says Bogart, who is president of the Grower-Shipper Association of Central California.
The farmers in Bogart's area aren't alone. Farmers across the state are investing more in robots and other automated technologies as they struggle to fill job openings, according to a Federal Reserve survey published in July.
Related: Trump immigration plan to cost 4.6 million jobs, Ivy League study finds
That reality in California may be a wrinkle in an immigration plan backed by President Trump. The thinking behind the policy is that it would provide more job opportunities and better wages for Americans by reducing legal immigration to the U.S. by 50% over the next decade.
The bill, known as the RAISE Act, seeks to create a skills-based immigration system that would particularly cut back on low-skilled, foreign-born workers.
"This is a major promise to the American people to push for merit-based immigration reform that protects U.S. workers," White House adviser Stephen Miller said August 2nd.
But one prominent U.S. official says that cutting immigration won't lead to more jobs. Instead, robots are more likely to swoop in.
Related: Trump immigration policy poses risk to job market
"If the labor is not available, this is not going to lead to more employment of people in the U.S. It's going to lead to more use of technology and machinery," San Francisco Federal Reserve President John Williams told CNNMoney Tuesday. "We are definitely hearing a lot of these stories."
Worker shortages have been a long-term problem at farms across America.
Bogart, the farming association leader, estimates farmers in his region are missing 15% to 20% of the workers they need.
The pay isn't bad: California farm hands earn $12 to $14 an hour, according to the Economic Policy Institute. That's above California's minimum wage of $10 an hour.
Related: How America's immigrant workforce is changing
"American workers have been unable or unwilling to fill these positions," says Bogart.
Farmers' increasing investment in automation poses a challenge to Trump's immigration plan to carve out more jobs for Americans. It also runs parallel to the trend in American manufacturing: Trump wants companies to produce more in the United States and less in Mexico or China.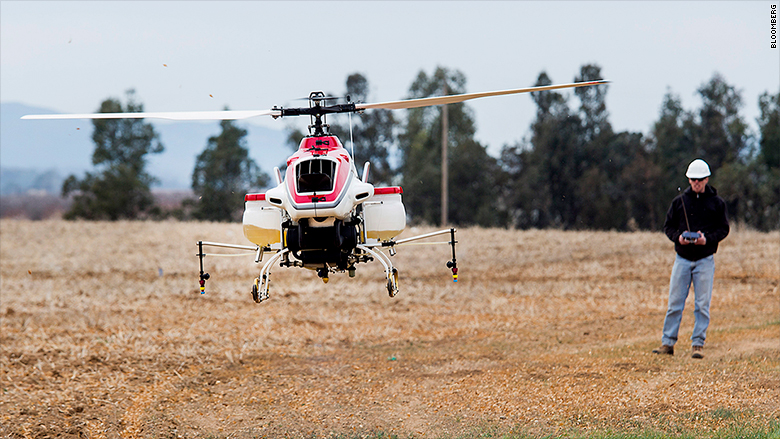 But trade experts say Trump's pressure on them will lead to more automation in the U.S., not more jobs.
Trump's immigration plan doesn't get rave reviews from academia, either.
The University of Pennsylvania's Wharton School concluded in an analysis that the proposed policy would cost 4.6 million U.S. jobs by the year 2040. White House officials say the Wharton study has a methodology flaw.
Related: Low-skilled immigration is petering out
There were 27 million foreign-born workers in the U.S. last year. As Baby Boomers retire, economists say America grows increasingly reliant on foreigners to keep the economy growing.
"If we were to cut back dramatically on immigration, that would pose a risk to long-term economic growth," says Luke Tilley, chief economist at Wilmington Trust.
As for farmers, the unpicked fruits and veggies mean one thing: lost profits.
Farmers in central coastal California lost $13 million last year in unharvested crops because of labor shortages, according to the Grower-Shipper Association of Santa Barbara and San Luis Obispo Counties. It's the fifth straight year farmers couldn't find enough workers.
Unpicked crops will also mean higher prices for Americans at the supermarket.
"If there's less product or harvest, the price for consumers will probably go up," says Bogart.
[ad_2]

Source link