[ad_1]

Forget stocks. These investors are putting £1.8 million ($2.4 million) toward shelter for the homeless.
Bridges Fund Management has backed a program that will finance living spaces for 200 homeless people in Manchester, England.
The investment comes from the firm's Social Impact Bond Fund, a £25 million ($33 million) pool of money raised from investors including foundations and wealthy individuals.
The goal is to help homeless people off the streets in the city, a former industrial powerhouse, while also generating a return.
Social bonds work like this: Investors put money towards a program designed to help society or the environment. They only make a profit if the program works.
In this case, success means the homeless must stay off the streets for two years.
"These programs are working with very vulnerable people, so they are very difficult to deliver and the outcomes are fairly unpredictable," said Andrew Levitt, a partner at Bridges.
Homelessness is on the rise in England, and Manchester is one of the cities most affected.
Roughly 200 people were sleeping on the streets near Manchester on any given night in late 2016, according to official statistics. But charities that work with homeless people say the problem could be much bigger.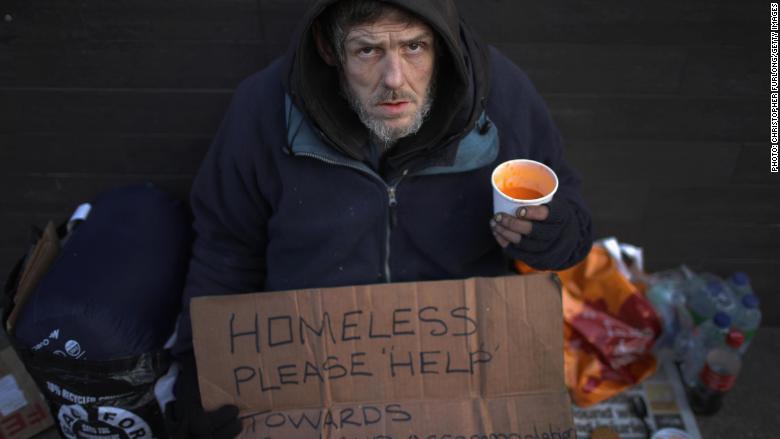 Manchester Mayor Andy Burnham, who has pledged 15% of his own salary to tackle homelessness, said that in addition to accommodation, the program will provide participants with intensive health and emotional support. They will also receive practical training and employment services.
The program will be available to people who have slept on the streets at least six times in the past two years.
Related: These super-rich families are investing their fortunes to help others
Social bonds are increasingly used by governments to pay for services.
Levitt said they often lead to better outcomes than standard government contracts, where money is paid upfront.
"It gives providers the freedom and the flexibility to adapt and improve their program as they go along, and a strong incentive to deliver better-than-expected results," he said.
Levitt said his firm's portfolio, which has invested in 20 social bonds across the U.K., is on track to hit its targets and make a profit in four years. He expects the Manchester project to deliver "a small return."
"With social impact bonds, the hope is the project delivers its impact, and you end up with your money back plus a bit more -- which you can then go and invest in a new project," Levitt said.
[ad_2]

Source link