[ad_1]

Venezuela, a nation spiraling into a humanitarian crisis, has missed a debt payment. It could soon face grim consequences.
The South American country defaulted on its debt, according to a statement issued Monday night by S&P Global Ratings. The agency said the 30-day grace period had expired for a payment that was due in October.
A debt default risks setting off a dangerous series of events that could exacerbate Venezuela's food and medical shortages.
If enough holders of a particular bond demand full and immediate repayment, it can prompt investors across all Venezuelan bonds to demand the same thing. Since Venezuela doesn't have the money to pay all its bondholders right now, investors would then be entitled to seize the country's assets -- primarily barrels of oil -- outside its borders.
Related: Trump administration bars U.S. banks from some Venezuelan debt
Venezuela has no other meaningful income other than the oil it sells abroad. The government, meanwhile, has failed for years to ship in enough food and medicine for its citizens. As a result, Venezuelans are waiting hours in line to buy food and dying in hospitals that lack basic resources.
If investors seize the country's oil shipments, the food and medical shortages would worsen quickly.
"Then it's pandemonium," says Fernando Freijedo, an analyst at the Economist Intelligence Unit, a research firm. "The humanitarian crisis is already pretty dire ... it boggles the mind what could happen next."
It's not immediately clear what steps bondholders will take. Argentina went through a vaguely similar default, and its bondholders battled with the government for about 15 years until settling in 2016. Every case is different, though.
Related: Venezuela admits it can't pay all its debts anymore
Venezuela and its state-run oil company, PDVSA, owe more than $60 billion just to bondholders. In total, the country owes far more: $196 billion, according to a paper published by the Harvard Law Roundtable and authored by lawyers Mark Walker and Richard Cooper.
Beyond bond payments, Venezuela owes money to China, Russia, oil service providers, U.S. airlines and many other entities. The nation's central bank only has $9.6 billion in reserves because it has slowly drained its bank account over the years to make payments.
The S&P default announcement Monday came after Venezuelan government officials met with bondholders in Caracas. The meeting was reportedly brief and offered no clarity on how the government plans to restructure its debt.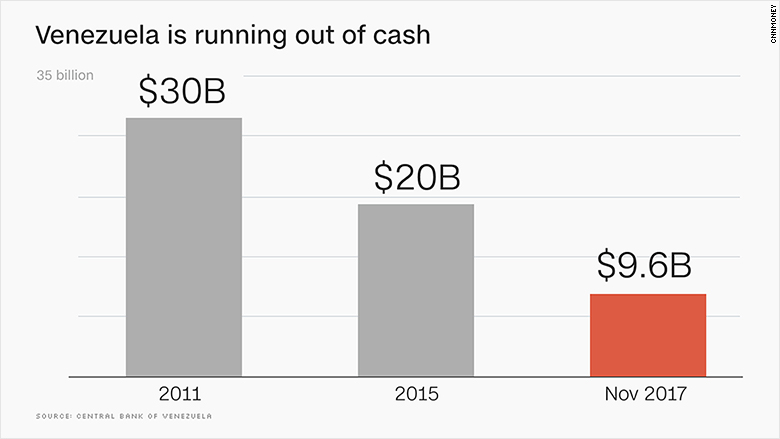 The Venezuelan government blames its debt woes -- and inability to pay -- on a longstanding "economic war" waged by the U.S. More recently, the Trump administration slapped financial sanctions on Venezuela and PDVSA, barring banks in the U.S. from trading or investing in any newly issued Venezuelan debt.
But experts say the populist Venezuelan regime that has been in power since 1999 bears the brunt of the blame. It fixed -- or froze -- prices on everything from a cup of coffee to a tank of gas in an effort to make goods more affordable for the masses. For years, Venezuelan leaders also fixed the exchange rate for their currency, the bolivar.
Related: Venezuela is blaming Trump for missed debt payments
Those moves were among the driving forces behind the food shortages. Farmers couldn't sell at low prices without going out of business because their cost of production was much higher. Importers also couldn't afford to ship in food, knowing they would have to sell at much lower prices than what they paid for at the port.
When food shortages grew worse, an illegal black market emerged where venders sold basic foods at vastly higher prices than the government's artificially low prices. Inflation soared, making the bolivar almost worthless.
One U.S. dollar currently buys more than 55,200 bolivars. At the beginning of the year, a dollar was worth about 3,200 bolivars, according to dolartoday.com, a website that tracks the unofficial rate that millions in Venezuela use to determine payments.
The International Monetary Fund predicts that inflation in Venezuela will hit 650% this year and 2,300% in 2018.
[ad_2]

Source link